Barcodes

---
The barcodes service allows you to generate shipping labels for your packages, containing the address of the sender, the recipient, the delivery method, its options and the tracking barcode
Barcodes service setup
In order to setup the plugin to use the Barcodes service, you must fill in your franking license(s) and environment mode.
If you add multiple franking licenses, a dropdown selection will be available when generating barcodes to choose which license to use for every label.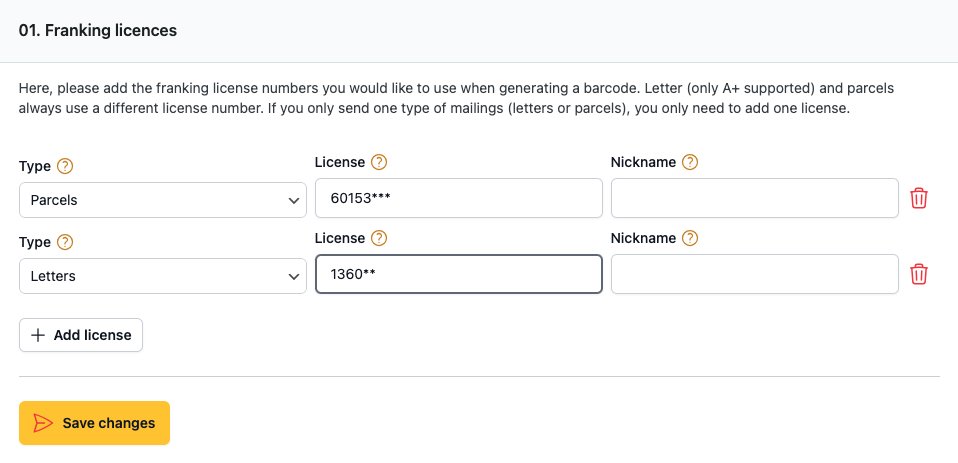 Delivery methods, options and handling
All the delivery methods, delivery options and handling options available with the module are listed. You can check the ones best suited for your activity to simplify the interface on the order page.
Please note that the delivery method & delivery and handling options you check here don't determine how each label will be generated, but what options you actually see in the module.
PDF size
This option controls the intended print format of the labels. You may choose between A5, A6 and A7.
Status after label generation

The module will automatically change the status of your order upon a successfully generated barcode label, the most common use would be to set this to an In transit or Completed status. This is particularly useful when using the bulk order functionality as it prevents you from having to change every order's status individually.
Logo
By default, the module will display your shop address as the sender on the barcode labels.
You may choose to display a logo instead of your address by uploading a logo.
The placement of your logo can be adjusted to your preferences using the rotation, aspect ratio, horizontal alignment and vertical alignment options.
Notifications
After ordering, your customers can be kept informed of the shipment status and choose how they receive it.
Find out more
You may choose a logo to be displayed in notifications; this field is not required.
In order to set up the notifications you wish to use, you may use the notification builder. This tool allows you to add as many notification services as you want.

Communication method: Choose between SMS or e-mail communication
Service: The notification service you wish to use.
Free texts (optional): For most e-mail notifications, you can provide texts which will be included, the content is up to you.
If your shop offers language support, be sure to provide the texts in all languages using the language switcher.
If the customer's language is not English, French, or German, the notifications will be sent in English. Other languages are not currently supported by Swiss Post.
Single order usage
You can generate a barcode for a single order from the details page in the PrestaShop admin area.
To do so, you will find a new section named Swiss Post barcode generator.
Once you are satisfied with your barcode configuration, please click Generate barcode to generate the barcode labels.
In some situations, the download will not start automatically, in such case, you can start the download by clicking on the link that appears.
Bulk order usage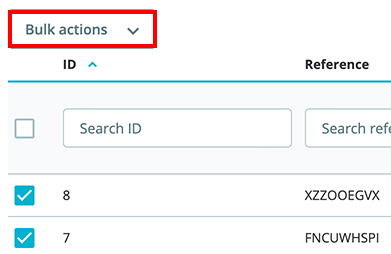 You can also generate barcodes for multiple orders in one go. Visit PrestaShop » Orders and check the wanted orders in the list.
You will then find a new bulk action available named Generate barcodes, please select this bulk action, then click Apply.
From PrestaShop 1.7.7, this option is available directly in the Bulk actions dropdown
A modal will then appear, once you are satisfied with your barcode configuration, please click Submit to generate the barcode labels.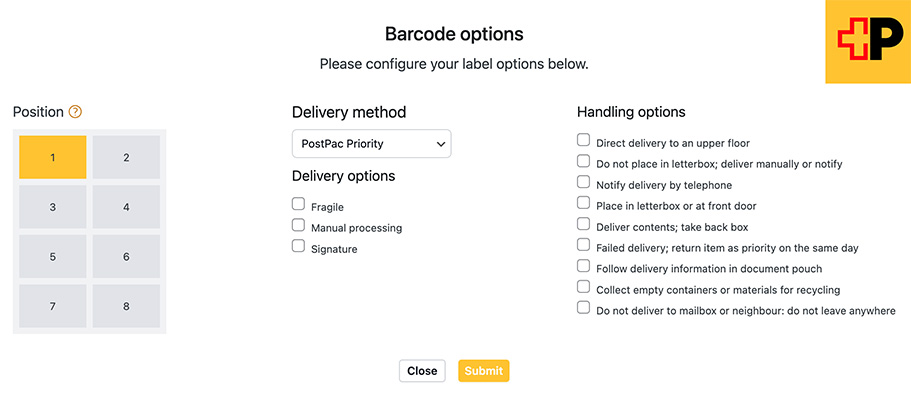 In bulk generation mode, the same options will be used for each generated barcode label. Each label is generated separately, currently there is no way to combine them on one page
Address validator

---
The address validation service displays a button below the address form in the checkout allowing your customers to check whether their address is recognized and considered valid by Swiss Post. If not, corrections will be proposed. There is no obligation to use it, your customers can still use an unvalidated address for their order.
Configuration

To allow your customers to validate their addresses with Swiss Post, please ensure you have activated the service in the module configuration.
Usage

Users can validate their Billing and Shipping addresses during checkout by using the Validate my address with Swiss Post button at the bottom of the form.

The button will become red or green depending on the status returned by Swiss Post.
Address autocomplete

---
The Address autocomplete service activates an "autosuggest" feature on address fields in the checkout. For example, when your customer starts typing a street name, they will automatically be offered autocompletion suggestions.

To allow your customers to autocomplete their addresses with Swiss Post, please ensure you have activated the service in the plugin configuration.
Usage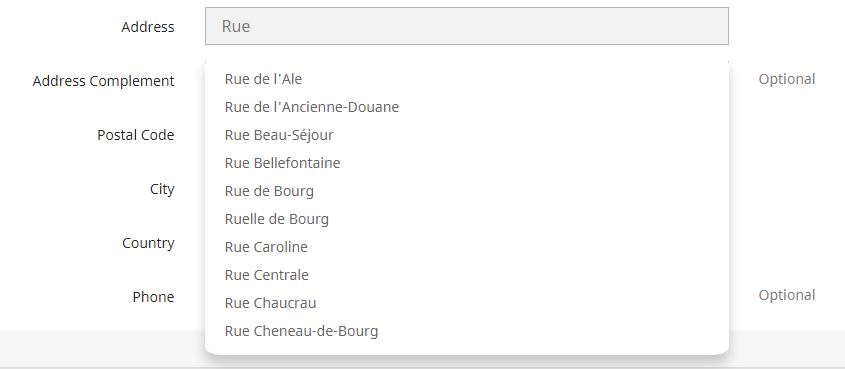 Auto-completion will occur whilst completing the Billing and Shipping address forms.
Version History (Changelog)

---
You can also find the version history (changelog.txt) file in the module folder and on the module sale page.
Once again, thank you for purchasing this plugin.
---
Changelog


                                    *** SwissPost Changelog ***

                                    2021-12-01 - version 1.0.2
                                    * PSF005 - Reload page after label generation for status update
                                    * PSF006 - Seperate firstname and lastname to prevent long name errors
                                    * PSF007 - Fix double payment issue on orders
                                    * PSF008 - Fix JS errors on other module configuration pages
                                    * PSF009: Fix address length limitations and add address line 2 to labels
                                    
                                    2021-06-04 - version 1.0.1
                                    * PSF001 - Fixed "Failed to load PDF document" issue
                                    * PSF002 - Fixed status update issue
                                    * PSF003 - Added address line 2 to labels
                                    * PSF004 - Fixed notification DynPic error
                                    * PSM001 - overridable barcode request

                                    
                                    2021-04-20 - version 1.0.0
                                    * Initial release


                                      
FirstPoint is a digital agency based in Lausanne (Switzerland) and is mandated by Swiss Post for the development of its e-commerce modules for Woocommerce & PrestaShop. If you have problems with the module and the documentation does not answer them, we will be happy to help you.